Web of Love - Healing List & Prayer Shawl Ministry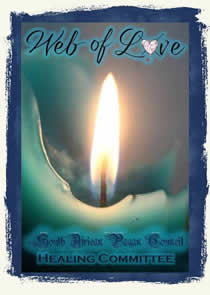 Healing energy & prayer requests and nominations for comfort / prayer shawls:
Please email weboflove@sapagancouncil.org.za with your request or post your request in our Facebook group. If this group is too public for your request, then please let us know. We also have a small healing committee in a separate group. The more information we have about the person needing it or their situation, the more you allow our healers to focus on the issue.
Healing Prayer Shawls:
A shawl is more than an item of clothing. It covers, it wraps, it enfolds; a shawl's warm embrace is an embodiment of nurturing. It can be pulled around your face to create a solitary sacred space for meditation, introspection and healing. A comfort shawl is a gift from one person to another; knitted with love in the heart and healing in the hands, and given freely to someone in need of it.
Aim:
To create knitted/crocheted items, such as shawls and scarves, that are woven not only from yarn but interwoven with healing, love and blessings for the benefit of the receiver.
How the shawls are made:
Each shawl begins with a meditation, an invocation or a prayer. This could be to a healing Deity, weaving Deity or any form of Divinity the knitter feels is best to bestow their blessings upon the receiver of the shawl. The shawl is then begun, and is knitted with the intent of healing and comforting its recipient; each loop capturing the energy that is raised. Once the shawl is completed it can be blessed or consecrated in a ritual, or a simple final prayer said over it before it is given to its recipient.
Comfort shawls can be used:
As a comfort during bereavement.
To aid healing and recovery after surgery or during illness.
For anyone who is overcoming great emotional trauma.
To lend strength and support to cancer patients or the terminally ill.
As a protective blessing for new babies and mothers.
Or at any point in life where one needs comfort, love and blessings during difficult times.
Or at any of the major milestones of life such as birth, marriage, croning etc


This group was originally started by BRON KATZKE in 2013